What does this tool do?
Hoard Master finds the optimal hoard upgrade strategy for reaching hoard quality 10 and your target hoard level using as few resources as possible. Enter the amount of each treasure troop you have along with your current hoard stats to generate the optimal troop combinations for each upgrade step. You can then try to reduce the number of the higher value treasures to balance them against your gold budget.
What is leftover XP?
Here's how to find your current hoard stats: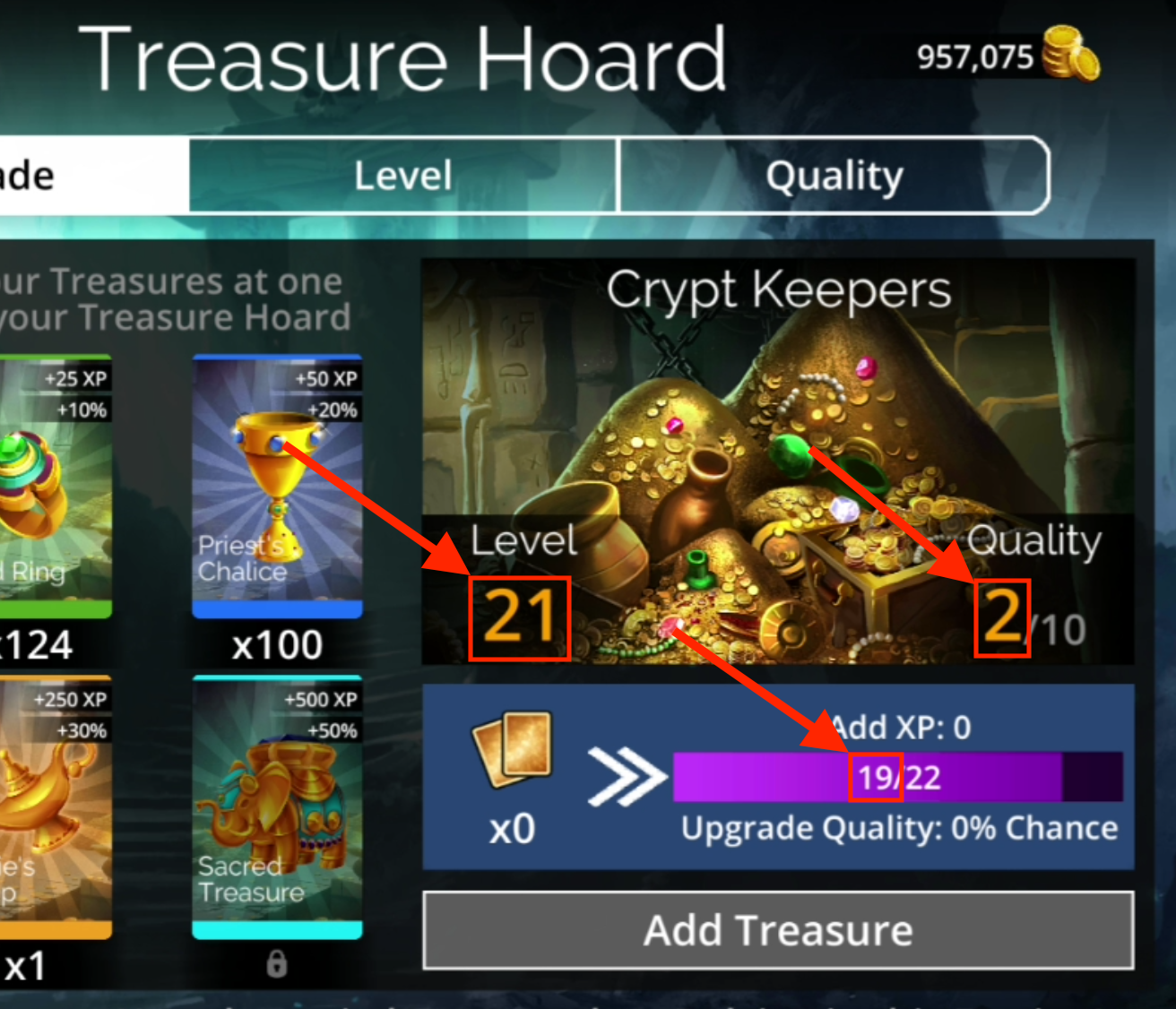 What about target quality?
The tool always tries to reach quality 10 since it maximizes your rewards.
What if I don't care about hoard quality?
You can make the quality irrelevant by setting the starting value to 10.
How do you handle the hoard quality upgrade chance?
Most of the troop combinations shown will upgrade the quality 100% of the time. For troop combinations that don't give a 100% chance of upgrading the quality, no upgrade is assumed.
Does Hoard Master always find the best possible solution?
The algorithm is partially brute force and cuts a few corners to stay fast. So you may be able to find a slightly better solution in some cases.
Is it a good idea to start by using a few sets of Coin Purses and Gold Rings?
Coin Purses are only useful if you absolutely need to reach a specific level and don't have any other troops available. Using purses is always expensive. Using small amounts of Gold Rings can sometimes be optimal, but they generally don't save you gold and should thus only be used if you're short on troops and have gold to spare.
What's a good target level?
Level 100 is the highest hoard level that gives additional faction renown, so that's a good place to start. Higher levels buff your troops in the faction's delve which can really help on higher delve levels, especially with an all-faction team. Keep in mind that hoard upgrades get more and more expensive as you go, so Sacred Treasures and Genie's Lamps get more and more valuable. So if you plan on upgrading any hoards above 100, it's a good idea to save up on those in advance. Adding one Sacred Treasure may only save you around 15000 gold at earlier levels, but these savings can go into the hundreds of thousands per troop later on.
I'm looking for a good guild. Any recommendations?
I'm glad you asked! Throne of Odin is an amazing guild family with a variety of guilds for all kinds of players, always looking for new members. Check out the Discord server to learn more!
(click anywhere to dismiss)